Hager Group Brands
As a family company, we have continuously developed over the years and grown into a group with strong brands. Each brand is among the best in its particular domain and embodies the courage, customer focus and innovative spirit that distinguishes and characterises Hager Group.
Hager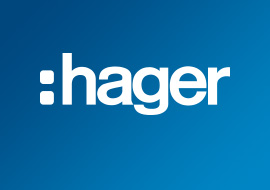 Hager offers a complete range of products and systems for electrical distribution in industrial and professional buildings as well as the home. These include complete solutions for professional electricians and contractors in the areas of energy distribution, cable management and office or workstation equipment, switches and home automation, as well as safety and security technology such as alarm systems, smoke detectors and motion detectors.

The underlying idea of these solutions is to benefit our customers, which is why the manufacturer maintains an ongoing dialogue with them. Here, we attach great importance to easy installation and comfort of use.